On her first day in No 10, the new PM's in-tray will be packed with problems: on the EU, Trident, schools, the NHS and more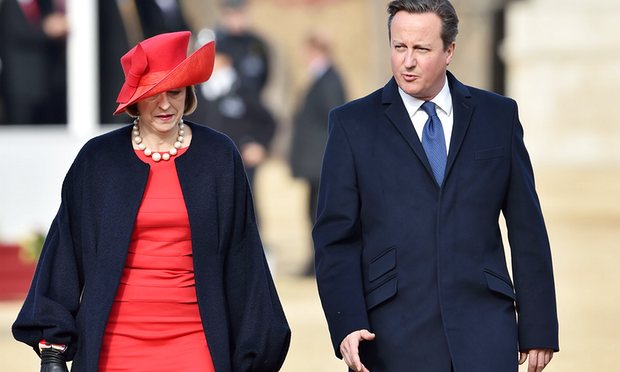 David cameron having scored one the most appallingly obvious own goals [entirely selfy inflicted and predictable] then passes the parcel to Theresa May, after Johnson, Farage et al have headed to the moors with their tails between their legs. Whilst there is no seeming end to the complete lack of political awareness form Cameron around the whole exercise, he will surely being giving a massive sigh of relief to be exiting No 10 and passing all of the headaches on to someone else.
May will find a confluence of very pressing and complex matters in her in-tray on her first day in No 10 – and not just about how Britain will leave the EU.
From universal credit to junior doctors' strikes, school academisation and farmers' subsidies, she will inherit many challenges from David Cameron's administration.
May frequently says simply - Brexit means Brexit, but this leaves all the relevant questions unanswered.
Angela Merkel, The German chancellor, will be wanting a clearer picture soon, including whether the UK is going to give up its presidency of the EU in the second half of next year.
The Cabinet Office minister Oliver Letwin and one of May's favoured Home Office civil servants, Oliver Robbins, have already been appointed by Cameron to look through the options for withdrawal.
It is quite likely some EU states – probably not Germany – will demand that she speed up her plan to delay triggering article 50, the clause that starts the two-year process of withdrawal, until the turn of the year.
The Norway Option
The simplest – but politically difficult –option is a version of Norway's relationship with the EU. This would probably require accepting free movement, and payment of a fee for access to the single market.
The 'Complex' Option
The more complex option is a unique relationship that ends free movement but retains some access to the single market. This will require a knowledge of trade negotiations that the UK lacks. And beyond there are all the other 'new' relationships and trade agreements to negotiate.
It will take great skill to balance competing demands inside her party.
One things is for sure… it won't be business as usual.